Heavy Duty Slurry Pump with abrasion-resistant materials and the Wilfley Waterless Sealing
  T

echnology.

The Wilfley EMW has been designed with the latest flow modeling technologies and finite element analysis to create a pump with optimum wear life.  The type of design, combined with Maxalloy 5A hard iron or elastomer lining, creates the ideal slurry pump for high wear applications.
Main Benefits
Waterless Sealing Technology

Leakless seal operation

High durability

High Chrome and elastomer lined constructions

High Efficiency, low energy consumption

Design for up to class 4 slurry services

Heavy-Duty bearing offer LB10 bearing life of more than 50,000 hours
Main Applications
Mining and mineral processing

Aggregates (sand and gravel)

Lime Slurry

Food Industry

Wastewater

Chemical slurries
Key Characteristics
Capacities:


Metal Construction: up to 4,000 m3/hr

Heads:


Metal Construction: up to 95m 

Max Working Pressure:


Metal Construction: up to 16 bar

Max Temperature:


110°C
Additional Characteristics
Discharge Sizes:
Metal Construction: From 2″ (50.8 mm) to 12″ (304 mm)
Flanges ASME/ANSI and ISO/DIN flanges available
Flow straightening vanes minimize turbulence, extend wear life, and improve performance
Adjustable suction cover to optimize efficiency and minimize wear (larger sizes only)
Impeller vans front and rear impeller vanes reduce wear
Optimized hydraulics for high efficiency, low NPSHr, and low wear
– Tangential discharge improves efficiency and reduces wear Static vanes to reduce wear Optimized expeller provides superior dynamic sealing with zero operational leakage
SolidLock® static seal
– Engineered for reliable sealing
– Labyrinth seals protect internal components during wash-down cycles
– Over-sized, self-aligning tapered roller bearings for trouble-free operation
– Easy clearance adjustment to maintain efficiency and optimize hydraulic and/or expeller performance
– Grease lubricated power end
Waterless Sealing:  Wilfley's Technological Advantage
The Wilfley Waterless Seal Technology is a proven design combining a dynamic and static seal, that excels in demanding applications and is trusted by companies all over the world.
Materials Options
Maxalloy 5A

Maxalloy 5

WCD4
Seal Options
Wilfley Waterless and Leakless Seal Technology

Solid lock

Expeller with Packing

Mechanical Seal
Precision Engineering, Proven Reliability
The EMWs on the right pump Gypsum Slurry to a tailing pond in a Phosphoric Acid plant Mexico.  The pumps exceeded customer's expectations with its wear part longevity and pump performance. 
Contact Wilfley for detailed specs, case studies, pricing, and customized solutions along with answers to all your questions. We are here to help you have the best options for your unique situation and operating budget.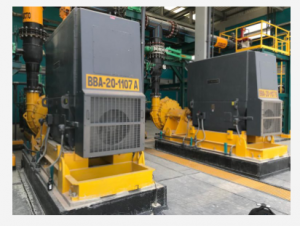 We provide customized solutions for all your industrial requirements. Talk to us.